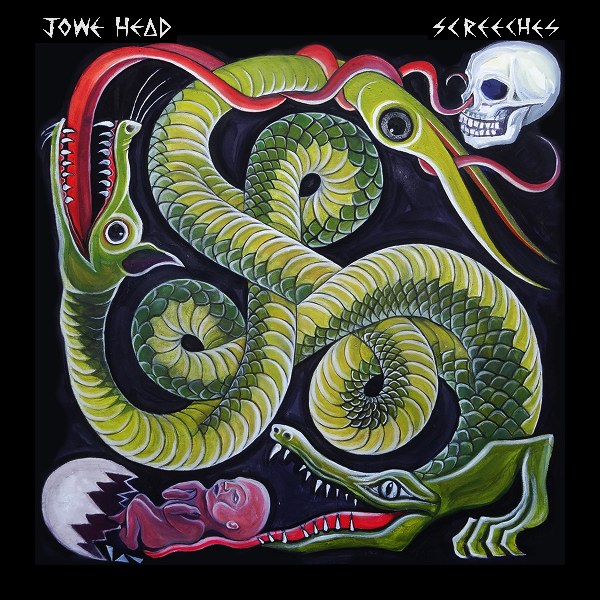 "Screeches"  is a new solo album from Jowe Head. 
It features a blend of experimental material and conventional songs. 
These tracks were recorded over a period of six years:  2015-2020. 
First track "Big Fish" is influenced by melodies and rhythms from the African state of Mali.  Lyrically it is about trying to survive in a bourgeois society.  This track features a home-made thumb-piano that Jowe made himself, called the Blade-O-Tron. It is constructed from a handful of broken hacksaw blades, attached to an ornate Cuban cigar-box.   
"Arachne and Athena" is a vocal duet in waltz-time with Miss Roberts, the singer with Rude Mechanicals, a fine band that Jowe sometimes performs in.  The lyrics are based on an ancient Greek myth.  This mythological theme occurs again in "Scarab", which is inspired by the ancient Egyptians' veneration of the humble dung-beetle. 
"Aviator's Lullabye" is sung from the perspective of a mother, about her husband, a pilot who bombs civilians using a drone aircraft, in a distant war-zone. 
There are two songs about avant-garde artists:  "Louise Bourgeois", and "Felt And Fat", which is about Joseph Beuys. 
Some sounds were produced using a few Indian instruments:  the tambura and a harmonium.  Other sounds were made with toy piano, typewriter, music-box, a bowed psaltery, mandocello, autoharp, kaosillator, analogue synthesiser, and drum machine.  There is even a guitar played on some tracks. 
Some other sounds are made with primitive home-made instruments, like a mouth-bow, the Colanderfone, and the Cap-Trap, all made with found objects. 
This album is released on vinyl LP by the ORG Music label, and is presented with a black-and-white booklet called "Scribbles and Scrawls", featuring illustrated lyrics, photos and an essay.

It is available to purchase here.